"Asia's Got Talent " first grand champion El Gamma Penumbra will take the Boholanos to a rare spectacle giving the 2015 Sandugo a memory as restless as the dancing shades of the group that has mastered in shadows a great performing art.
The world-caliber Filipino shadow play group has labeled its identity from two Latin words, gamma and penumbra, which roughly translate to "the ray of light (behind) a man's shadow."
Shadows and melodies "collide" during the most-awaited event in the evening of July 27 at the Bohol Wisdom School Gym as the El Gamma performs back-to-back with the internationally-renowned Loboc Children's Choir.
The showdown is presented by the governments of the province of Bohol under Gov. Edgar Chatto and Vice Gov. Concepcion Lim and Tagbilaran City under Mayor John Geesnell Yap II and Vice Mayor Jose Antonio Veloso.
It is also in partnership with the Bohol Chamber of Commerce and Industry (BCCI) led by its president, Engr. Albert Uy, and Provincial Tourism Council (PTC) and Bohol Sandugo Foundation, both chaired by lawyer Lucas Nunag, Jr.
The El Gamma, whose members all hail from Tanuan, Batangas, was chosen to be a part of the Philippine tourism campaign "Choose Philippines" for its ability to deliver a message by shadow acts.
Before winning in the first-ever Asia's Got Talent in Malaysia this year, the El Gamma once competed in the Philippine version of the foreign talent search franchise.
With "Colors of the Wind" from Disney's animated film "Pocahontas" as the background song, the El Gama performed its "Asia's Got Talent" grand final winning act—a shadow play incorporating global issues on hope to share a message to save Mother Earth.
The group's feat earned praises from across the globe, putting the world under the shadow of the capacity of Filipino talent.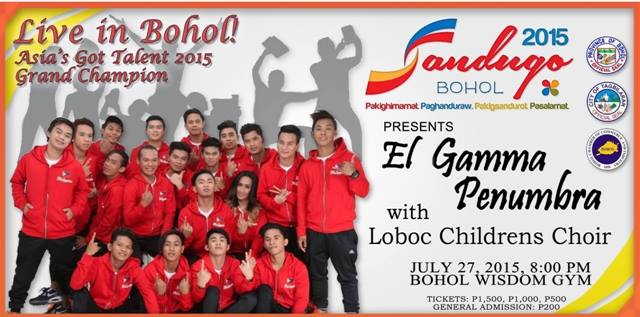 In their upcoming Bohol performance, tickets are pegged at P1,500, P1,000 and P500, with a general admission charge of P200. (Ven rebo Arigo)